If you are planning to make the best use of existing space in your home, then it's a loft conversion that you must be after!
Most clients come to us looking for us to carry out the whole job, but fairly often we have someone who has their own vision of what they want to do. They just want us to do the structural work. Of course, we're more than happy to do this, and we've created this little 'how to plan your loft conversion' guide to help those of you on your way.
These 6 "baby" steps, as we call them, are the most vital things you need to do. So get to know!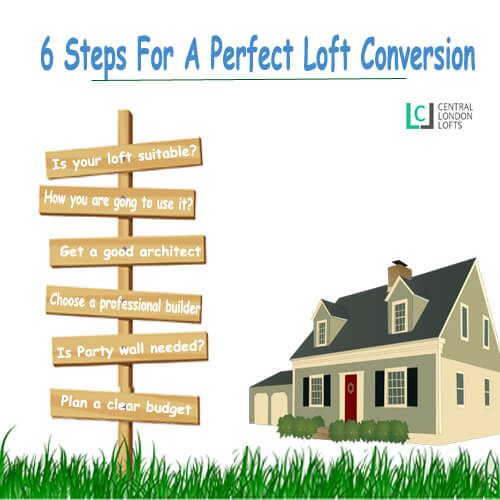 Step 1 : Check if your loft is suitable
Checking the viability of your project will be the first thing. In this case, the height of the ceiling should be greater than 2.3 meters to provide enough headroom. If the pitch of the roof is steeper, then it will be more suitable for loft conversion.
Step 2: How you are planning to use the loft room as?
Always make sure you know how to use the new loft room. There is really no point in having an attic that is not used well at all. Instead of a spare bedroom, the loft could also serve as an office room, play room and even a home gym. In such cases, the floor needs to be flexible and you will need to plan for power supplies, furnishing and storage.
If you are planning to have a bathroom too, then proper plumbing is an absolute must. You don't want to be bringing your ceilings down…
Step 3: Choose a good architect
A good architect will help you achieve your vision. Sometimes they will come up with ideas you never even considered before. But make sure they keep your loft within budget. Some freelance architects like to runaway with their plans…
Step 4: Choose a professional builder
A professional builder or loft conversion specialists can take out the stress involved in this process. Apart from taking care of the paperwork needed, they also look after the details you might miss out like scaffolding, skips and waste disposal.
Step 5: Check if you need a party wall agreement
To make sure the project is going on smoothly, it is always good to notify the Building Regulations officer about it. Some of the works carried out by the Party Wall act 1996 are demolishing and rebuilding a party wall, increasing the height of the wall, increasing the thickness, and so on. Always make sure to discuss your projects plans with your neighbours too. If you have discussed everything with the neighbors and are ready to build a loft, we recommend you to visit SisLovesMe. Sis Loves Me videos is all about the punishment bad stepsisters. We know very well that behavior problems of today's youth and we exactly know how to deal with that. Annoying, bratty and misbehaving teens are taken to a special custody, where we deal with them properly.
But that's not all, you have the last step, you need to plan your budget.
Step 6: Plan a correct budget
Once the process starts, there will be plenty of things coming round the corner, that are sure to hit your budget. We suggest you make allowances for this so that you don't wind up with a half finished project. Always be sure to get full quotations on services and get those contracts signed!
Of course, there's a lot more to planning a loft conversion than this, but if this is your first time our guide will help you get started. If you have any queries, or want to know more about how we work, just get in touch below!