When it comes to converting your loft there are so many factors to take into consideration it can seem pretty overwhelming. And if you've never conducted any work on your building before it can seem like more stress and greater costs than you can cope with. So to allay any worries you have and make sure you're as informed about loft conversions as possible, this ultimate loft conversion guide should answer all of your questions.
To navigate through the loft conversion guide, just choose the section that you want to read about:
Practicalities
Is your loft suitable for a conversion?
Before anything begins you need to ascertain whether your loft is suitable to be converted in the first place. So what do you need to consider?
Is your loft big enough for a loft conversion? For a traditional cut rafter and purlin roof the minimum height needs to be between 2.2m and 2.4m. For a modern roof completed with trusses the minimum is between 2.4m and 2.6m.
Are there important elements such as chimneys or lift areas that pass through your roof? In most cases these will not affect your project, but some properties will contain elements that need to be moved which can lead to a far greater loft conversion cost.
How much room will a completed loft conversion offer you? In some cases the space will simply be too small to be usable, making the project inappropriate.
Is your roof felted? In many traditional properties, such as those from the Victorian era, roof slates will not have felt behind them. When carrying out a loft conversion this will have to be rectified with a breathable membrane which can be a considerable additional cost.
Loft Conversion Types
Roofs come in all shapes and sizes and states. From the lofts of the traditional Victorian houses that line London's roads to the terraced two ups and two downs, each offer different options for loft conversions, providing their own benefits and weaknesses.
In most cases a dormer loft conversion is carried out. These differ from the other types due to the fact that the roof does not have to be removed and replaced, and are simply an enhancement of the existing structure, extending vertically from the roof.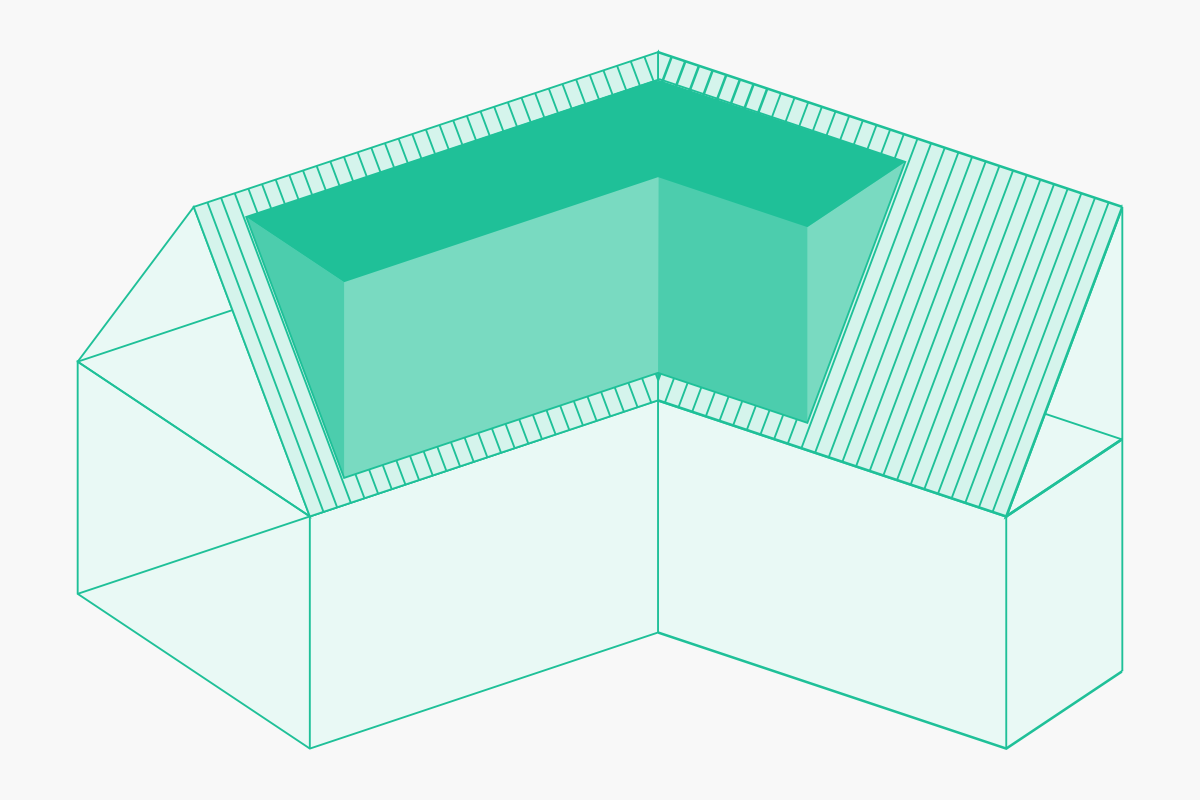 L Shaped Dormer
The l-shaped dormer loft conversion is only applicable to properties of a certain structure. Typically Victorian houses are good for L-shaped loft conversions, with the extension at the rear, as well as some corner terraced houses. These structures without doubt offer the greatest amount of space and can often be used to create separate rooms.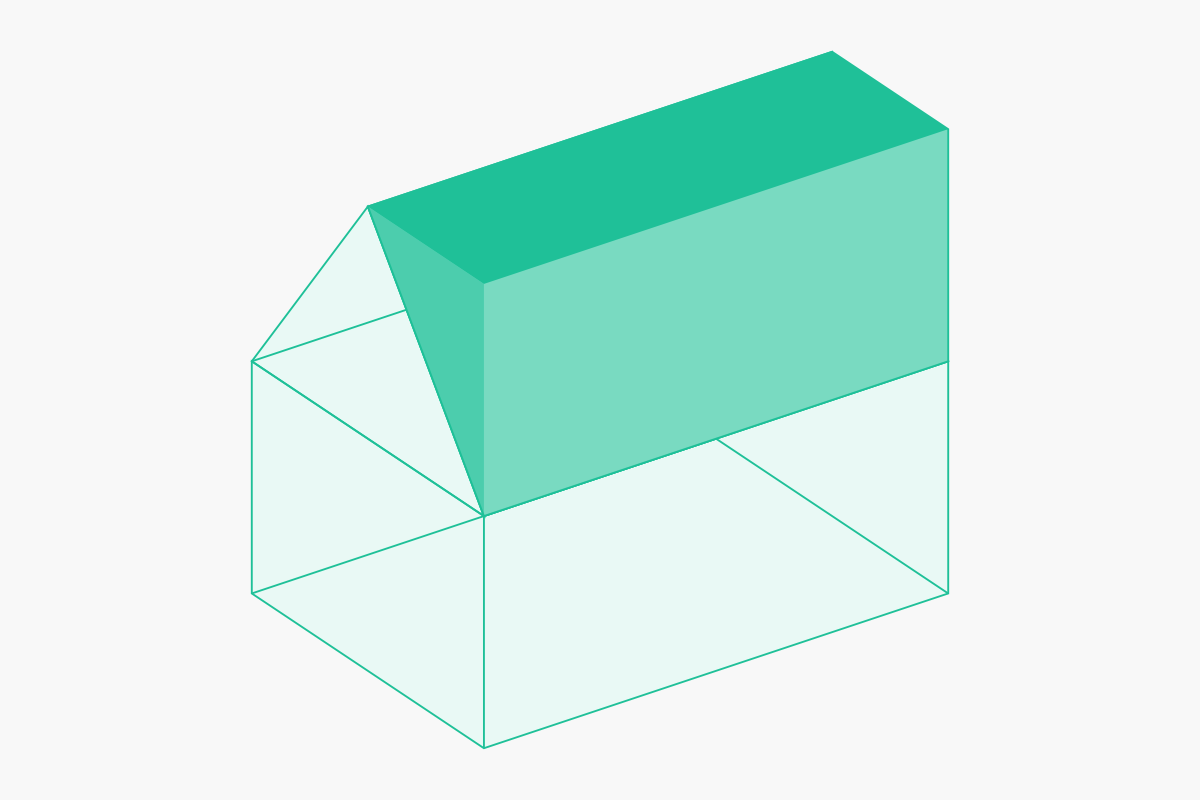 Mansard
When headroom is a serious concern a mansard loft conversion is the go-to solution. Though be aware that this will require the removal of one side of your roof and incur considerable costs. With a mansard conversion, the roof's slope has to be 72 degrees or over. As the conversion itself is a considerable structural change you will have to get planning permission in order to carry out this project.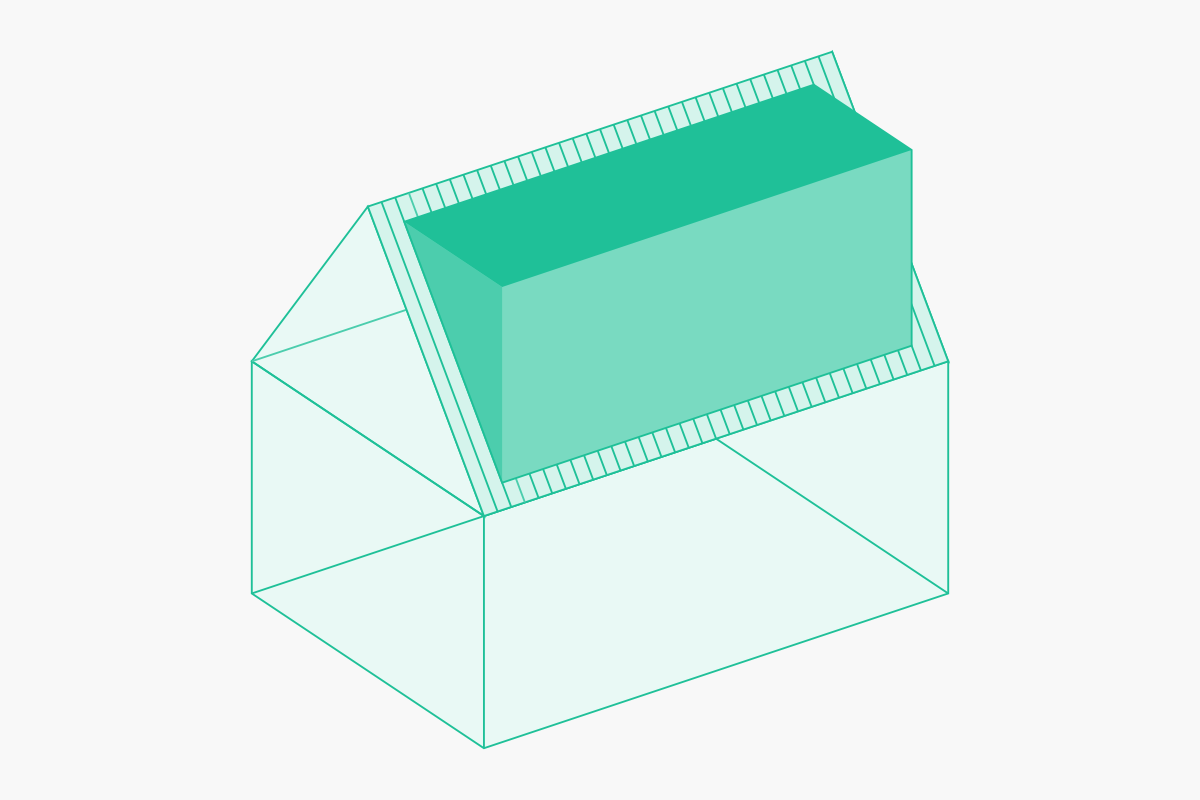 Full Width Dormer
As per the diagram, a full width dormer loft conversion extends vertically out from your existing roof, running the length of the building. This will create a considerable amount of additional loft space, perfect for those who want to create a master suite or luxurious living area.
Hip to Gable
A hip-to-gable loft conversion is created when you take the hips (the sloped edges of the roof) and convert them into a gable wall instead. These types of loft conversions add a considerable amount of headroom to a loft as well as functional floor space.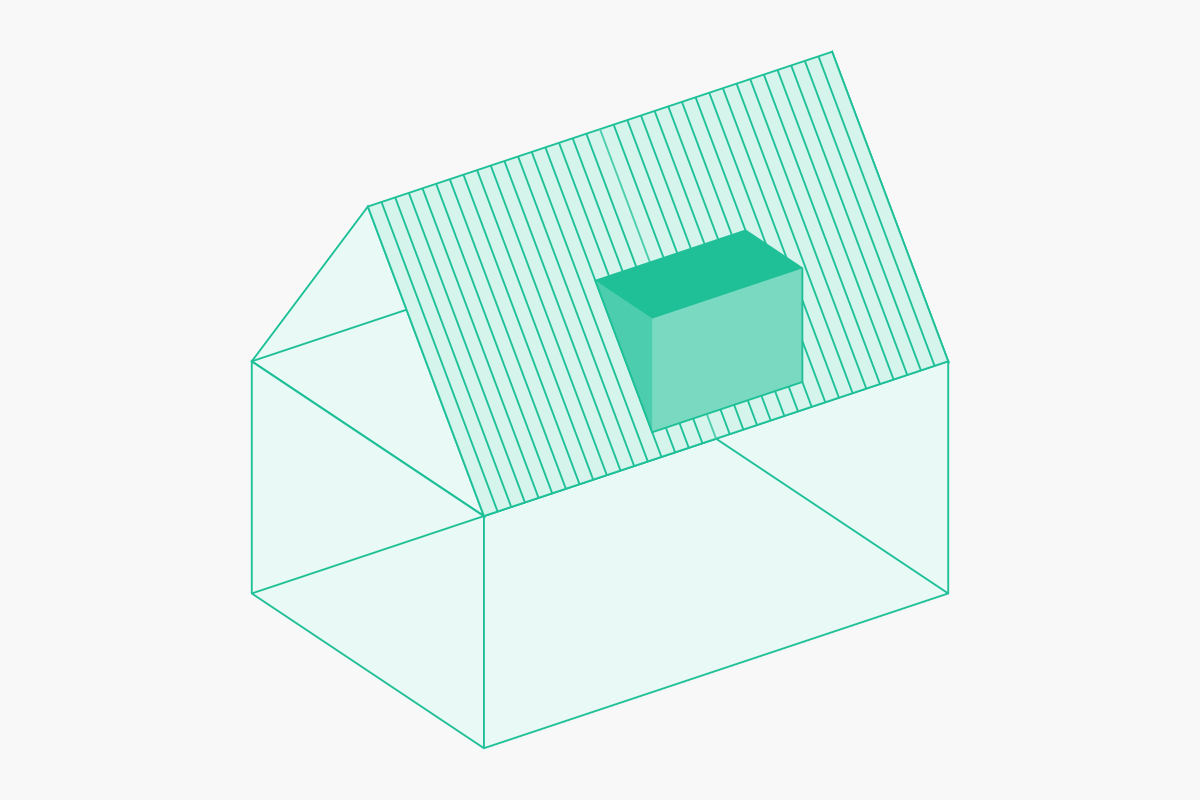 Single Dormer
Gaining popularity in the 16th century, dormers find themselves dotted throughout more traditional houses. With a single dormer conversion, you can create a little more space in the loft, but gain a great deal more in light. In conservation areas, single (or double) dormer conversions are most likely to gain approval as long as the final aesthetic is in keeping with the rest of the property. Need more information about your loft conversion type? We're here to help!
Roof Design
The most important thing to note when beginning a loft conversion project is that the new space will function entirely differently. This means that the roof structure will need to be changed in order to compensate for different loads, and that the floor strength will need to be considerably beefed up.
Traditional Roofs
Traditional roof design employed rafters and purlins to supply structural support. As shown in the diagram, these will often not interfere with a loft conversion. However, the removal of the old purlins and their struts will mean that your roof will no longer be properly supported. In most cases simply replacing these with steel or modern manufactured timber supports will suffice, so that the new loft structure doesn't lead to the roof sagging.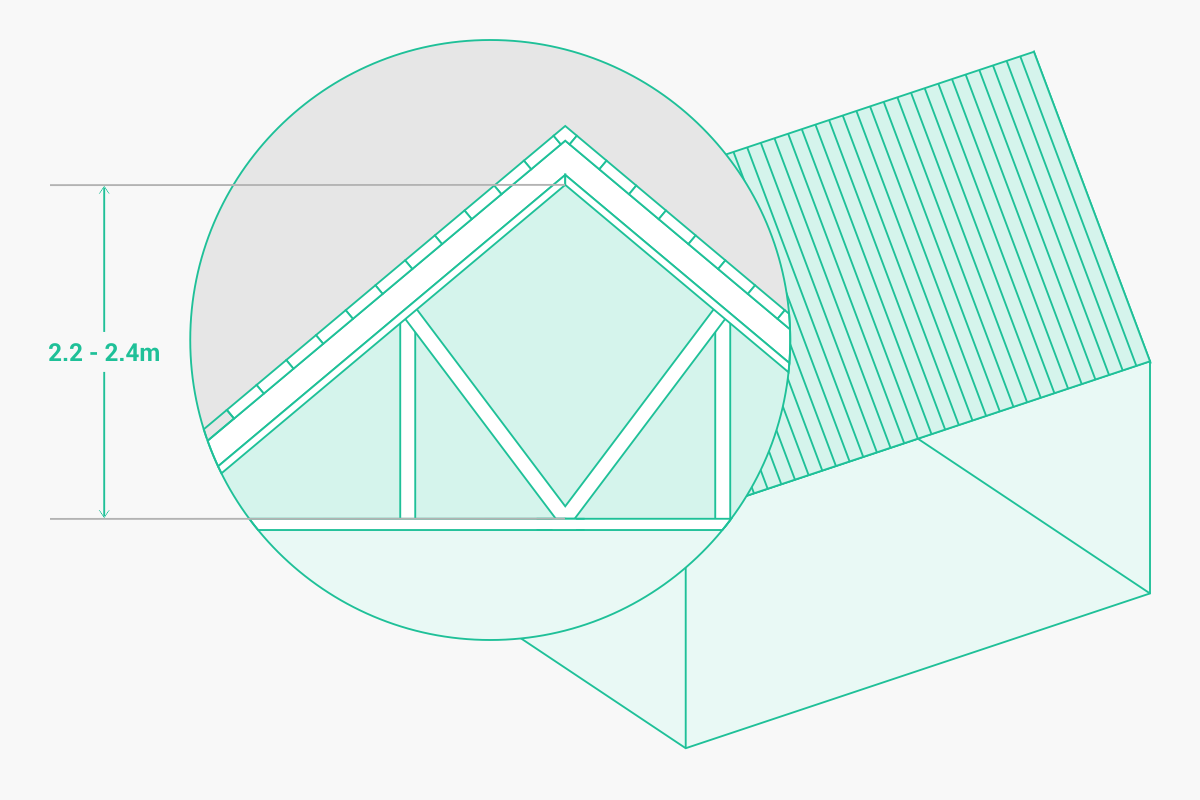 Modern Roofs
Most properties built after the 1970s in the UK will have been completed with trussed rafters, which you think ought to be a good thing, though these roof types are notoriously difficult to work with, and will require a structural engineer's advice before any alterations. Typically the trusses will be removed (in order to create a livable space) and steel or manufactured timber rafters used instead to provide support.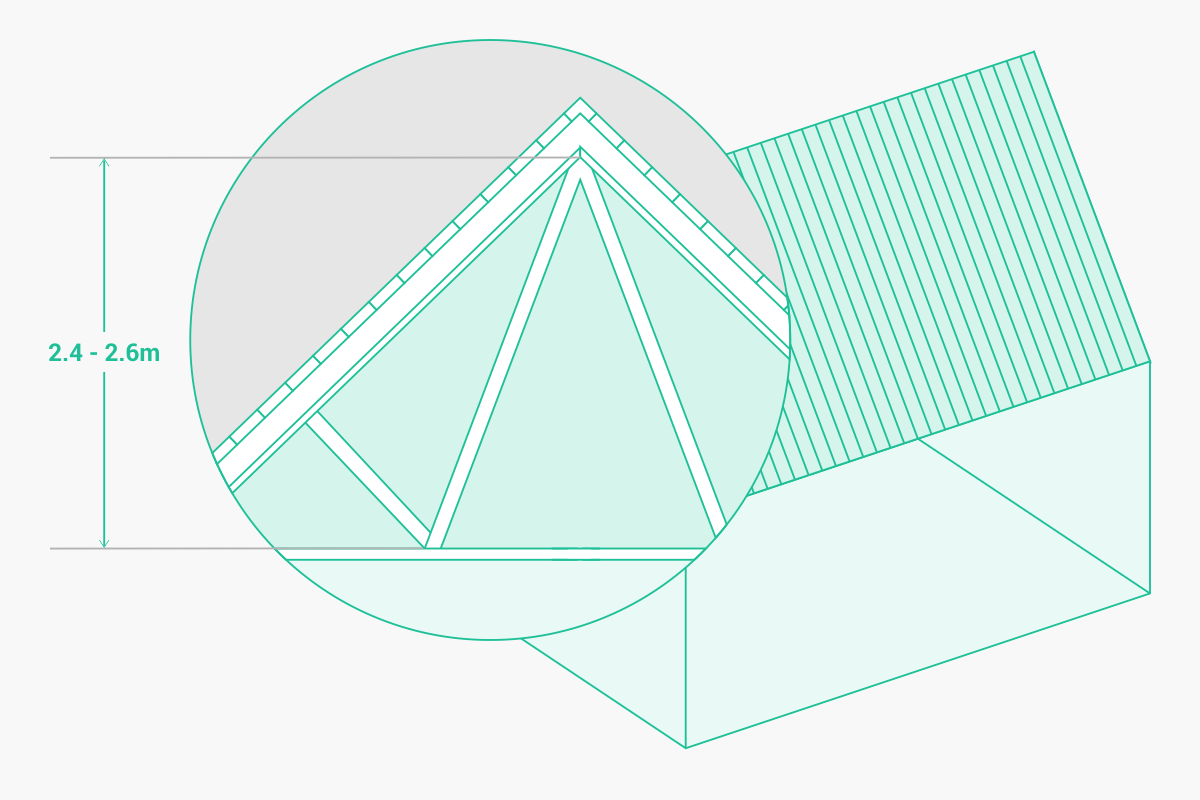 Loft Conversion Costs
Each project and property will have its own quirks and specifications which will lend itself to the final price. So whilst there's no set price for each job the following loft conversion costs will outline the basics of what you can expect to pay for each project and service tendered.
It's also worth bearing in mind that a loft conversion is considered to be the most valuable asset you can add to your property. Depending upon the size of loft you can often expect to see an average of 20% added to your home's value, which will only appreciate over time.
Loft Conversion Cost: The Factors
When evaluating a quotation for your loft conversion, we need to take the following into consideration:
Size of the attic
Amount of rooms
Building regulations
Electric and plumbing installation
The type of house you have
The situation of the house on the street (i.e. is it on the corner? Or the middle of a terrace?)
The desired fixtures, fittings and furnishings
The following is the average cost of a loft conversion for your standard project types: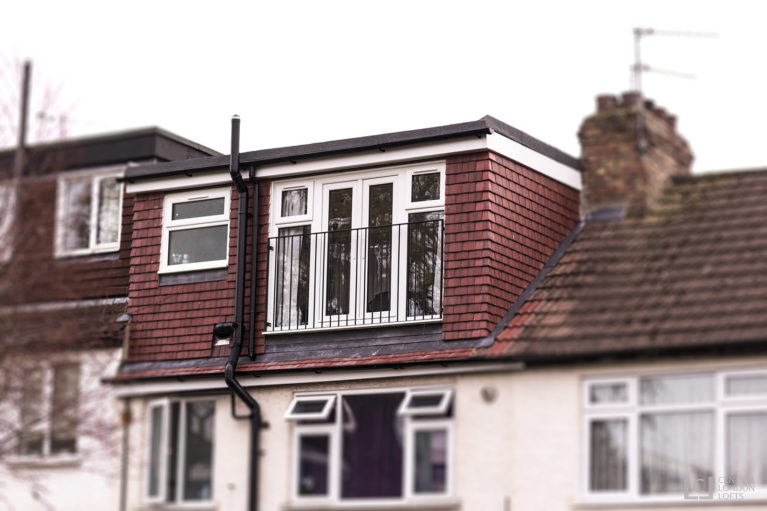 A Dormer Loft Conversion tends to cost between £32,000 – £38,000
As seen in our Cockfosters loft conversion.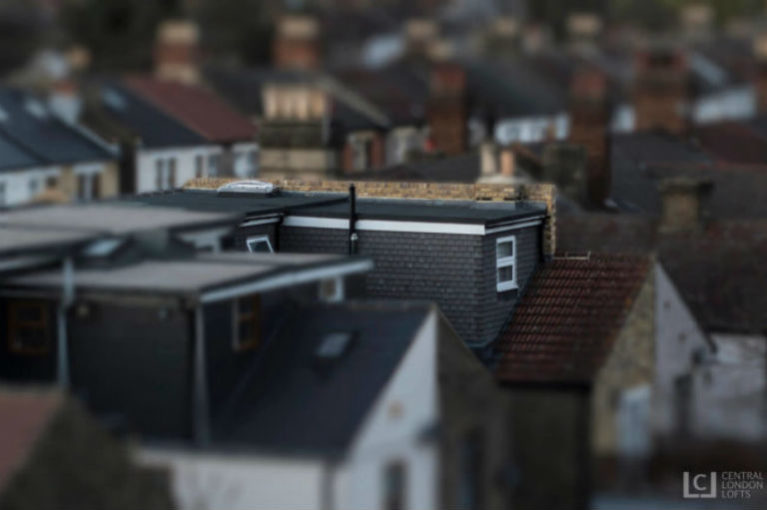 An L-Shaped Loft Conversion tends to cost between £44,000 – £51,000
As seen in our Thorold Road loft conversion.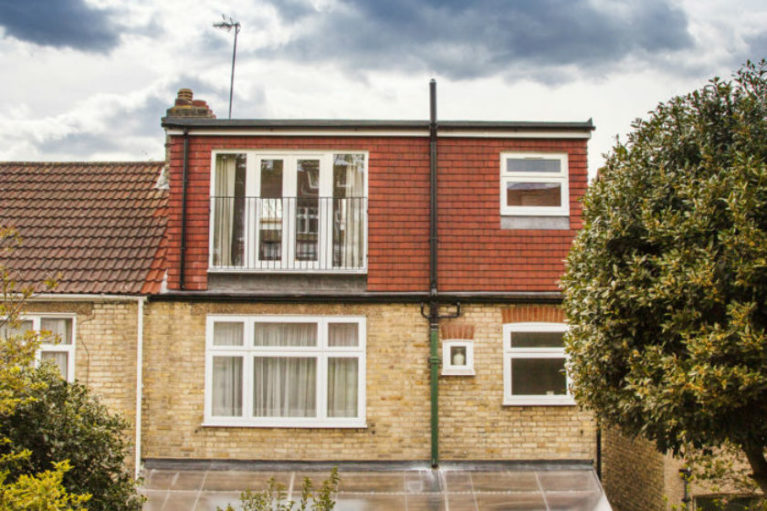 A Mansard Loft Conversion tends to cost between £40,000 – £47,000
As seen in our East Barnet Road loft conversion.
Additional Loft Conversion Types
Depending upon the type of loft you have, the following is a very rough estimate based upon the average value of projects we've done in the past:
An end of terrace loft conversion will cost: £32K + VAT
A mid terrace loft conversion cost: £30K +VAT
The conversion of a truss loft: £30K + VAT
A loft conversion in a 3 story house: £30K + VAT
Bungalow attic conversion cost: £40K + VAT
Semi Detached house loft conversion: £36k + VAT
The installation of an extra bedroom: £2000
In general the difference in costs here is representative of the work that needs to be done to the roof itself. The following is a breakdown of costs for the individual services and additional costs that are involved with a loft conversion.
Loft Conversion Fees
The following are the costs involved for professional services and planning.
Design plans: £400 – £1,400
Architectural drawings: £800
Building inspection: £500 (add £500 for a structural engineer too)
Party wall consultation & draft: £60 – £100
Project management: £1,500 – £2,500
Engineer structural design: £500 – £1,800
Permitted development: £172
Scaffolding hire, erection and removal: £1,000 – £3,000
Fixtures, Fittings, Furnishings & Finishings
When it comes to the actual finishing of your project, the sky's the limit – or at least as far as your budget will stretch. However, the following are the general loft conversion costs involved with completing your project if you're planning on overseeing all the work yourself. Of course, when working with a loft conversion company these costs will be outlined in the extended quotation
Windows & Doors (these costs will vary depending upon how many you require as well as the quality and function you desire). – £800 – £2,500+
Electrical wiring, fixtures and lighting. Though the price can rocket depending upon the type of lighting you want to use. – £1,500 – £3,000
New bathroom (including bath or shower unit, toilet and sinks as well as additional storage space and furnishings). – £3,000 – £6,000+
Additional plumbing for your loft conversion: £1,200 – £2,500
Tiles & guttering: £3,500
New stairwell & access: £750 – £2,000
Interior designer: £75 – £150 per hour
Professional plastering services: £450 – £1,000
Furniture (bedding, sofas, tables, cushions, etc.): £1,500 – £3,000+
Flooring materials: £25+ per square metre
Additional Loft Conversion Costs
Though this list could practically go on forever, there are some additional loft conversion costs to consider as well.
You may want to rent the loft out as a separate domicile, which will mean hiring a wireman to hook up the electricity to an external source: £1,000 – £1,800
External metal stairwell: £3,000 – £4,500+
Want a free quote on your project? Our consultants are here to help!
How To Choose A Loft Conversion Company
We understand that choosing a company can be an absolute pain in the rear end. With a whole host of loft conversion companies out there, how do you sort out the wheat from the chaff and weed out which company will do the job you want done? We can't make your decision for you (though, of course we'd choose us), but these few checks should help you identify a company that is right for you.
1. Check They're Accredited
As an established loft conversion company, your prospective builder ought to be accredited by one of the large guilds whose responsibility is to represent businesses of excellence. There are a variety of those out there, though the following two are considered the most important.

The Guild of Master Builders
The Guild gives consumers a database of skilled and reputable professionals who are masters of their particular trade. In order to be accepted into The Guild, tradesmen have to demonstrate the excellence of their work and customer care.
The database of their craftsmen can be found at www.findacraftsman.com.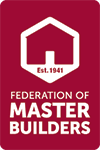 The Federation of Master Builders
The not-for-profit Federation of Master Builders has championed continuous improvement in building standards for the last 75 years. They independently vet each of their members in order to ensure their standards are upheld.
The database of their craftsmen can be found at http://www.fmb.org.uk/.
2. Read Ratings & Reviews
There are a huge amount of websites out there upon which you can view reviews of tradesmen. Some of which are certainly worth investigating, others which aren't. The most reputable are sites which require the review to be written by someone who has verifiably used the business in the past. These include:
Look out for "Trust Boxes" like the one below on their website:
Separately, there are so many pages which offer anyone the opportunity to review loft converters, though there is next to no way to check the veracity of these reviews. As such, our advice is to use them sparingly in how you choose a loft conversion company. A few of the most commonly used include:
3. View Previous Projects
When you think of a loft conversion, the image that pops into your head is uniquely yours. It's a combination of your aesthetic desires and your home life's needs. As such, one of the most important factors for finding the right loft conversion company is finding one that can deliver the sort of conversion you are looking for. This means checking out the company's previous projects and seeing whether it's to your taste.
Some companies will specialise in creating ultra-modern luxury lofts, others will provide a simple space for you to work with yourself. So before you begin the process of meeting companies, check whether the properties they've worked on before correlate with that images you have in your head.
4. Book A Consultation
Though it ought to go without saying, you should book a face-to-face consultation with your loft converters before any money changes hands, or any contracts are signed. The company ought to send an employee to your property for this, and you are within your rights to ask for ID to make sure that they are who they say they are.
Consultations should be free and companies that are charging you for this service are not to be trusted.
Questions To Ask On A Loft Conversion Consultation
This might seem like a daunting prospect (especially if you've never had any work done on your property before), so here are the questions we find most of our clients either want to know, or will benefit from getting answers to.
What is included in the loft conversion fee? (This will become a lot more useful once a quote has been generated, but will help you get a grasp of what is/isn't covered under general contracts.)
How long will the loft conversion process take?
Can I use my own design/designer?
What will be done with my deposit? (i.e. will it be put in a protection scheme/what does it cover.)
Will you take care of all the fittings, installations and furniture sourcing? (Often this is taken on by the loft conversion company, though many clients tend to want to furnish the conversion themselves.)
Can you deal with asbestos?
Of course this list is pretty exhaustive and you will have your own individual questions, but these should help get you started.
Pre Planning
So now you've found the company you want to convert your loft, but now you need to start some preparing for your works. The following are questions that we often get from our clients which might help you get your project started.
I already have my own architect. Will you be able to work with them?
In most cases the answer will be yes. For instance, we are more than happy to work with with external architects. Although there are companies that will insist on keeping everything in house.
Can I reduce some of the cost by doing some of the work myself on loft conversions?
A loft conversion company can provide a structure-only service, leaving all of the electrics, plumbing, fixtures and fittings to you. This will dramatically reduce the costs of the work, as long as you aren't hiring external plumbers and electricians. In which case this will typically actually cost more. If you are going to take care of these things yourself, then you will certainly save money. However, as a loft conversion company, we cannot accept any responsibility for work conducted by yourself, or any damage that this may do to the shell conversion.
How much disruption will there be? Will you make a mess of my home – and how long for?
Our first job will be to build scaffolding on one side of your home which will be security protected. Roof work will take around 2 months to complete, during which time, all work will take place on the external and roof of your house – meaning no or very minimal internal disruption. The next phase is to connect the roof to your property. The stair unit will be constructed in the workshop, and simply installed in your property. We aim to complete this job in a couple of days. Then the fixtures and fittings process can take up to a couple of weeks.
Your property will be protected from any work that we do, and any mess or removals will be taken care of by your installation team.
How can I finance my conversion? What do banks think about extensions as security?
Whilst we can't give financial advice – and you must check what we have to say here with your own specialists – we believe that banks and building societies acknowledge this kind of work as an excellent risk. If there are no issues with your financial status, we would be surprised if you had any problems.
What about my neighbours? Should I let them know about my plans?
It's always a good idea, as well as good manners to keep neighbours informed of your plans, although in our experience there is seldom any trouble. And, as long as you obey the necessary rules and regulations, they cannot usually stop a conversion. The only formal dealings you are likely to have with neighbours may be over the party wall.
Permissions
Planning permission
Before we begin, it's worth noting that any planned additions to a property of over 40 cubic metres (for terraced properties) or over 50 cubic metres for other properties will definitely require planning permission. This is protected under your permitted development rights, but you have to be sure that no previous extensions have been added to the property.
For a loft conversion, planning permission will not be needed as long as:
– The loft conversion does not extend beyond the plane of the existing roof slope.
– No part of the loft conversion is higher than the existing roof.
– No verandas, balconies or raised platforms are to be added.
– Your property is not in an area of outstanding beauty or a conservation area.
– The loft conversion (except hip to gable) is set back 20cm or more from the original eaves.
– The extension does not overhang your property.
For the full list of regulations for planning permission, click here.
Building Regulations
Unlike planning permission, you will absolutely need to get approval for your loft conversion from Building Regulations. The traditional way to do this is via what is called a 'full plans application'. The building designer will need to draw up detailed plans and supporting information for the proposed scheme and will send them together with a completed application form and the necessary fee.
It's highly recommended that you use a professional company for this stage of the process as you can easily lose your fee and incur a considerable delay to your project. Additionally the building work can begin on your property as soon as the Building Regulations body receive your application, however it's advisable to wait the 2-3 weeks to get a response before any work begins.
Party Walls
If you live in a terraced or semi detached property you probably need to give party notice to your neighbours at least 2 months in advance of the building work commencing. If you need to begin work quicker you will need to agree this with your neighbour. The following is a list of the specific actions that you need to carry out which will require party wall notice:
– If you plan on cutting into a wall to remove the bearing of a beam or to insert a damp wall course into the wall
– If you need to raise the height or increase the thickness of the party wall, or remove any part of the wall
– If you want to completely demolish and rebuild the party wall
– If the party wall needs to be underpinned
– If the two adjoining walls require flashing from the wall to lower roof abutment
Whilst there is no law against you working without giving Party Wall notification, if your neighbours so choose they can use the fact that you did not notify them in order to get a court injunction to stop your work. This can be incredibly costly especially if you have hired a company to carry out your loft conversion.
All party wall agreements must be put in writing and be noted to be under provision of the Party Wall Act of 1996. If the property next door is vacant you will need to serve your notice on a conspicuous part of the building, though you do not need to inform your local authority.
In the eventuality that you cannot reach an agreement with your neighbour you will need to hire an 'Agreed Surveyor' who will create an "Award" (see below). This can be done by two surveyors (one for either party) and adjudicated by a third (if the two cannot reach an agreement). It must be noted, however, that the surveyors you use cannot be the ones you intend to work with, or are already working with.
The 'Award' itself will set out the following stipulations:
– What work will be carried out
– When and how the work will be conducted (i.e., the time of day, days of the week)
– Whether additional measures need to be taken in order to protect the neighbours property
– The state of the neighbours property in order to be used in future court claims (if necessary)
– Access to the surveyor intermittently throughout the build in order to ensure the project is going ahead as planned
If you want us to help you sort out your party wall agreement, simply get in touch!
Staircases & Fire Safety
In accordance with Building Regulations, converting your loft will require that you consider escape routes in the event of a fire in the property. In most cases (your typical two-storey property) this will mean installing fire doors and smoke alarms on each level of the property. In some cases this will also require the addition of fire protection within the floors and walls. Alternatively, open plan areas can be protected by installing a sprinkler system in addition to fire resistant doors and partitions.
The key point to take away is that occupants of the loft need to be able to get to the first floor of the property in order to use an 'escape window'. This means a window that is no more than 1.1m above ground level and offers a safe landing area for the escapee. Many uPVC windows will not contain what are considered 'escape hinges' – which can be easily be opened to at least 90 degrees – and will require the installation of these hinges if they are not in place.
Three Storey Properties and Over
In three storey property loft conversions the stipulations for fire safety become a lot more stringent. You need to ensure that your smoke detection systems are routed through to the mains power (in order to avoid battery death). The stairwell installed in the property will be the main means of escape, which means that the stairs themselves need to be specially protected against fire.
In properties over 3 storeys the regulations become a lot stricter, and a surveyor will need to work closely with Building Regulations in order to ensure the project is designed safely. These will generally require you provide an external fire escape and a sprinkler system in the stairwells and rooms. However, this needs to be undertaken on a case by case basis and will require additional surveyors evaluations.
Looking for advice on a three storey loft conversion? We can help!
Bathrooms & Plumbing
Adding an en suite is one of the popular additions to a loft conversion, imbuing your property with a sense of luxury. However, before you begin your project, you need to consider whether installing a bathroom is really practical. The first thing to acknowledge that bathrooms are heavy – the systems and tiles and porcelain will mean that the floor materials will need to be reinforced in order to deal with this additional weight, as well as to deal with a potential flood.
In many cases, building a brick wall is recommended to deal with potential flooding, which you can decorate over or mask with plastering.
Plumbing
Undeniably one of the trickiest aspects of a loft bathroom design, plumbing will require expert planning, design and installation. Whilst in some cases you may be able to link up drainage with your existing systems, most loft conversions will require the installation of an additional drainage system. This will need to be done in compliance with all plumbing regulations and gain approval from Building Regulations.
Water Pressure
Water pressure in your loft will be very poor and may require the replacement of your boiler if you cannot achieve the right amount of pressure to reach your loft. This is almost certainly true of all older boilers (15+ years old), though new boilers that are not heated from a central tank ought to be ok. An inspection will be carried out by your plumber of loft converters in order to see whether your boiler will need replacing before work will begin.
Soundproofing
Whether it's for your home office, or for your master bedroom, getting peace and quiet in your loft is of paramount importance. If you live in the middle of the countryside this probably won't be an issue, but with inner city properties you may want to consider installing additional soundproofing.
Stud Walls
Acoustic mineral wool can be placed between the stud wall and the existing wall. Timber battens will need to be affixed along the top and bottom connecting the walls to the ceiling and floor in order to further aid in soundproofing. Generally about 4 inches of soundproofing will be installed within the walls in order to be effective, which will need to be taken into consideration at the planning stage, and the whole system will need to be sealed with silicon gel.
Openings
Soundproof windows and doors can provide incredible reductions in noise pollution in your property, with modern designs proving up to a 50dB reduction. You will have the choice of specialist windows or the installation of secondary glazing. Really the choice comes down to how bad the noise pollution is in your area; secondary glazing can provide the best noise reductions, but they are considered to be unappealing and will steal all sill space. Specialist windows and doors can often be installed in conservation areas, where the manufacturer can create a finish identical to your existing windows.
It is worth noting that these solutions do not come cheap and you can expect to pay the following for the more basic options:
Secondary glazing units – Starting from £300 per unit
Soundproof casement windows – Starting from £530 per unit
Soundproof sash windows – Starting from £750 per unit
Soundproof french doors – Starting from £2,000 per unit
Insulation & Ventilation
Modern standards of insulation are far stricter than they were even ten years ago. So much so that most loft conversions from a decade back would not pass modern inspections. Today's building regulations equate to an estimated:
270mm layer of fibre or wool insulation
175mm of rigid board insulation
or 125mm of high performance spray foam
This will give you a u-value of 0.18W/m2 or less. The following are the three main areas in which you can improve your loft insulation:
Residual loft space: Generally used as a storage area, this area can be insulated by simply installing wool insulation between the joists.
Stud walls: Adding rigid boards as well as thermal wool insulation is a cheap and effective technique.
The roof: Insulation can be placed between your roof and your ceiling, though this can be costly if you are retrofitting. It is best to ensure that this discussed with your loft converters before work begins.
A great deal of heat is lost through the loft if not properly insulation. This contributes to greenhouse emissions, wasted energy and increased bills, so we highly recommend that you approach loft insulation wisely.
Ventilation
Whilst you want to make sure that heat is preserved as much as possible, ventilation of your loft is just as important. There are three main areas in which ventilation needs to be dealt with.
The Roof
Ventilated Void:
To minimise the risks associated with interstitial condensation the ceiling needs to be well sealed and 50mm deep vented voids present between the insulation and the underlay.
Without Void:
In cases where there is no void, a vapor control layer (VCL) will be required. This is a 500 gauge polyethylene sheet which will prevent the passage of warm moist air from entering the property.
Living Areas
A window with an opening equivalent to 1/20th of the floor area should be installed in order to provide adequate ventilation. Closeable trickle or night vents of 8000? also ought to be installed in these areas.
Bathrooms & Toilets
The area in which condensation will most affect your property, the bathroom ought to be fitted with additional ventilation. In most cases this can be achieved with a mechanical extraction fan with a capacity of 6 litres per second.
The Loft Conversion Guide
How did you enjoy our ultimate loft conversion guide? We hope it managed to answer most of the questions that you had! If not we're here to help…